History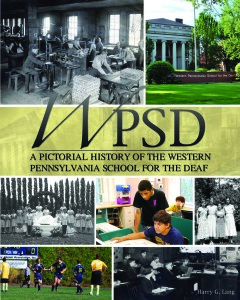 DISCOVER SOMETHING NEW ABOUT WPSD TODAY!
"WPSD: A Pictorial History of the Western Pennsylvania School for the Deaf" offers readers the opportunity to travel back in time to witness the start of WPSD and trace the steps of the School through the years to encounter its students, teachers, and staff. The book, written by WPSD alumnus Dr. Harry Lang, is available to purchase from WPSD for $25, which includes shipping and handling. Please contact Ms. Sarah Bartlebaugh at sbartlebaugh@wpsd.org.  Discover something new about WPSD today!
WPSD continues the tradition of excellence begun over 140 years ago.
Founded in 1869, the Western Pennsylvania School for the Deaf began when one Deaf child entered a Pittsburgh classroom.  Over time, funding for the school was received from a variety of foundations and friends, and a charter was obtained. Then a Board of Trustees was organized. The school grew from eight students on that first day in 1869 to the highest enrollment of over 500 students in the 1960's.  WPSD moved to the current location in Edgewood, east of Pittsburgh, in 1884.
The school continued to receive sporadic public funds until 1927, at which time a reimbursement plan for instruction was proposed and accepted by the Pennsylvania Department of Education.
Many changes have occurred in the field of deaf education over the years. During the 1950's, preschool education and the practice of sharing information with parents became wide-spread. In the 1960's WPSD was awarded state accreditation for its high school program. In the 1980's several innovative projects were started, and with a new focus on the Total Communication approach, American Sign Language classes were taught in the evenings.
Major changes occurred in the 1990's with the arrival of technology on campus. WPSD built a state of the art Learning Center, the auditorium was refurbished and a new television studio was built. A Math, Science and Technology Center was completed and remains one of the finest in the area.
Today, iPads, Internet access, smart board technology and document cameras are an everyday part of the educational environment throughout the campus.