Children's Center @ EUP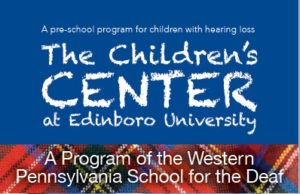 The Children's Center at Edinboro University, offered through a cooperative partnership between Edinboro University and the Western Pennsylvania School for the Deaf, is a quality preschool program tailored to Deaf and Hard of Hearing children, ages 3 to school age. The early childhood years should provide a strong foundation for children to develop the skills and confidence necessary to become successful, lifelong learners. The Children's Center at Edinboro University preschool recognizes families as the key influence in a young child's life. Our program is designed to not only help students develop language and foundational skills but also to be a resource and support for their families.
We believe in a student-centered approach to teaching and learning. We value children, families, and the diversity of individuals within our community. We prepare students to think creatively and collaboratively, to work to the best of their ability, and to develop responsibility and curiosity. We promote a love of learning.  The Children's Center follows the Creative Curriculum which promotes learning in a structured environment through circle time activities and meaningful, hands- on play.
Our curriculum is aligned with Pennsylvania Early Learning Standards. It is a year-round program with scheduled breaks in June and August. Serving northwest Pennsylvania, the preschool operates Monday to Thursday from 8:30 a.m. to 3:30 p.m. on the campus of Edinboro University. A small class size allows for individualized, student- centered instruction in a child friendly classroom. Modular learning and thematic-based materials promote learning through play and support the development of vocabulary and language.
Parents and families also play a very important role in each child's education. We offer parental support and opportunities for family involvement through a variety of programs and workshops throughout the year.  Our All Inclusive Communication Environment allows for full access to language and barrier free communication. We provide instruction in American Sign Language (ASL), Spoken English, and Sign-Supported English. The method of instruction depends upon the student's individual needs.
Our teacher and support staff are specifically trained to work with deaf and hard of hearing children and include:
Certified Teacher of the Deaf and Hard of Hearing
Certified Speech Language Pathologist
Additional support staff include Occupational Therapists and Physical Therapists and Edinboro University Graduate
---
We invite you to visit the The Children's Center at Edinboro University and meet our staff.
For more information or for a tour, please contact:
Ms. Casie Lucas-Szumigala, M.S., CCC-SLP
Outreach Coordinator/Speech Language Pathologist
814.920.2578 – clucas@wpsd.org
The Children's Center at Edinboro University
140 Butterfield Hall, #103
310 Scotland Road Edinboro, PA 16444