Tuesday, February 20, 2018
"An Evening In Edgewood" to support early childhood programs at WPSD.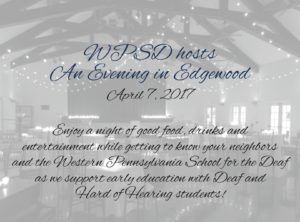 An Evening In Edgewood
Join us for a fun and informal evening at the Edgewood Club on Friday, April 7th from 6:00 p.m. to 8:00 p.m.
Enjoy a night of good food, drinks, and entertainment with your neighbors, while supporting early education programs offered through the Children's Center at the Western Pennsylvania School for the Deaf.  Business casual or casual attire is recommended.
The event is sold out!  We extend our deepest appreciation to every person who purchased ticket or sponsorship, donated a gift item, or is volunteering at the event.
We look forward to seeing everyone at the Edgewood Club on April 7th!