School Handbook (2020-21)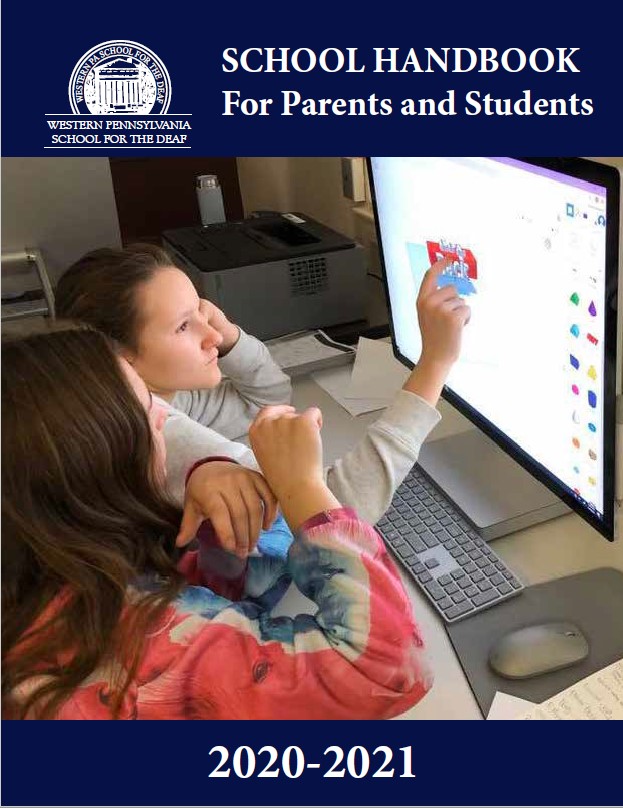 The Western Pennsylvania School for the Deaf is a private, state-funded school approved by the Department of Education.
This tuition-free school provides a unique opportunity for deaf and hard-of-hearing children to learn the skills necessary to enter the world of education and employment that awaits them after graduation. Private funding is used for renovations and after-school programs. In a brief fashion, this School Handbook For Parents and Students provides some information on academic schedules, residential life, after-school opportunities, and general school regulations.  A copy of the Handbook can be downloaded by clicking on the cover.
We hope this information will help to create a positive understanding and cooperative effort among the parents, the school, and the students. Although this handbook has been designed to answer many of the questions asked by students and their parents, it is not intended to replace personal contact between students, parents, and administrators.  The Chief Executive Officer, Chief Operations Officer, Director, Principals, Deans of Students, Coordinator of Student Services, and the entire WPSD staff are available throughout the year for student guidance, parent conferences, and any questions you might have regarding your child's program.
If parents or students have questions regarding school policy, they should contact an administrator for clarification. WPSD is committed to parental involvement in their children's programs. We look forward to another productive year!