Transition: Planning for Life Beyond High School
Transition is the official term for a set of activities that creates a bridge between school and adult life for students. Transition services help students become a part of the adult community – get ready for work and other aspects of adult life, obtain further education, etc.  The Transition years (age 14 to 21) can be a challenging time for parents and students who are Deaf or Hard of Hearing. Some of the questions often asked include:
● What will I do after graduation?
● Will I be able to get a job?
● Which agencies will help me?
● How do I chose a post secondary program? Should I receive more education or training? What is available and how much does it cost?
● Will I be able to live independently in the community? Which agencies can help me in this process?
● How do I access financial aid?
● How do I get a sign language interpreter?
● Where can I find information about job fairs or current job openings in the area?
● What supports are available for adults with hearing loss?
Transition Starts at Age 14
Transition is a requirement of federal law (Individuals with Disabilities Education Improvement Act [IDEA], 2004) and the Pennsylvania Special Education Regulations and Standards. School districts are responsible for the education of students with disabilities through age 21, unless the student graduates before age 21. Beginning at age 14, students must have a Transition Plan as part of the Individual Education Plan (IEP). Transition-age students should participate in the IEP process to define realistic goals and identify agencies that can help them achieve their goals after high school.
Transition 21+
Transition means planning for life beyond high school. Although the legal guidelines of transition in special education specifically address the needs of students between the ages of 14 to 21, our WPSD transition page offers information and resources for all WPSD graduates.
If you have questions or need additional information, please contact any member of the WPSD Transition Team at your convenience.  They stand ready to help you and answer your questions.
Fran Jolly, Guidance Counselor – 412-371-7000 ext. 105 or fjolly@wpsd.org
Carol Riser, Transition Coordinator – 412-371-7000 ext. 242 or criser@wpsd.org
Jodi Reeves, Work Training Coordinator – 412-371-7000 ext. 335 or jreeves@wpsd.org
Events.
Communication in the Community.  The Western Pennsylvania School for the Deaf has implemented a new program called "Communication in the Community" series.  WPSD invites presenters, who are deaf or hard-of-hearing, throughout the year to share their communication strategies in the work setting.  Students learn about adjustments and accommodations that can be made in the work environment so a Deaf person can be successful. These experienced professionals have served as invaluable mentors as the next generation of WPSD students enter the workforce.
Devin Rosetreter will be our guest speaker on Jan. 29th for our "Communication in the Community" series. He currently works as a Vocational Rehabilitation Counselor at the Pittsburgh Office of Rehabilitation. He brings a wealth of knowledge and expertise to our students regarding how to be successful and communicate efficiently and effectively in the work environment.  Discover more about Devin background and experiences by reading his this short a short biography about Devin.
Resources.
WSPD Alumni Survey.
WPSD is proud of our Alumni and we are interested in knowing what you are doing.  We want to keep you posted about events, services, resources.  Please help us by providing your current contact information so we can include you in our network.  Fill out this Graduate Survey and email it to fjolly@wpsd.org or print and send to: WPSD, 300 E. Swissvale Ave., Pittsburgh, PA. 15218  Attention: Transition Team.  Thank you!  – WPSD Transition Team. 
Planning For the Future Checklist.
Use the checklist below to get ready for life after high school.  Bring it to your meetings with your school and/or agency supporters to talk about your progress and how to plan for your future.  Click on the picture below to download your copy of the checklist.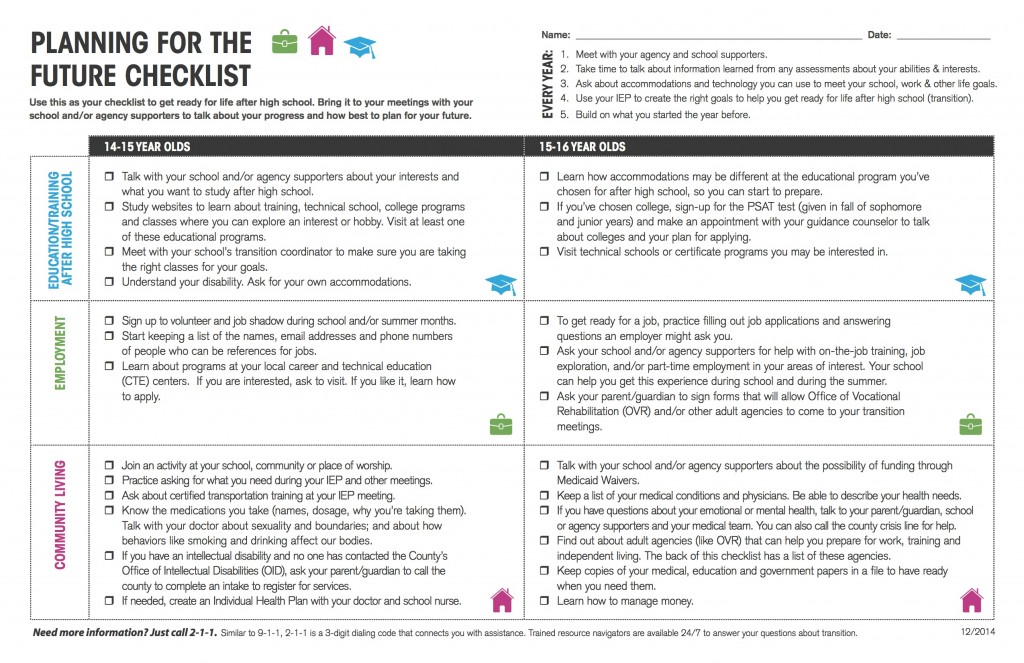 Planning For College.
For your convenience, we have provided a link: http://www.onlinecolleges.net/for-students/hearing-impaired-students/ that provides information about how students with hearing impairments can get college help with their academics, financially, and when entering the workforce.