The Western Pennsylvania School for the Deaf
The Western Pennsylvania School for the Deaf (WPSD), a non-profit, tuition-free school, provides academic and extracurricular programs to deaf and hard of hearing children from birth through twelfth grade. Founded in 1869, WPSD continues its tradition of excellence through services to children across Pennsylvania.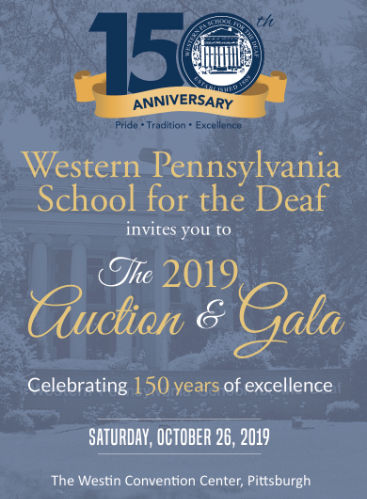 The 2019 Auction & Gala
Join the Western Pennsylvania School for the Deaf at the 2019 Gala & Auction as the school celebrates 150 years of serving Deaf and Hard of Hearing children in Pennsylvania.
We are thrilled to announce that Nyle DiMarco will be joining us that evening! The event will be held at The Westin Pittsburgh, located adjacent to the Convention Center, on Saturday, October 26.  For more details about this exciting evening please click the button below.
Why is WPSD Right For Your Child?
WPSD's barrier-free, all-inclusive communication environment meets the needs of the individual student. American Sign Language, Sign Supported English and Spoken English are all incorporated to promote the academic, social, emotional and physical development of our students. Why is WPSD the right School for your deaf or hard of hearing child? Discover all that the School has to offer students – download a copy of Why WPSD?, tour the School by viewing the video in this section, browse our newly redesigned website or call 412.371.7000 to schedule a visit.