NOTICE:  The safety of our students is our highest priority. At approximately 1:35 pm today, there was concern in the community of the sound of something like gunshots. WPSD staff and security responded immediately and the perimeter of the school was secured. The local authorities were also contacted. Students and staff were safe and secure at all times. Please contact us with any questions or concerns.
WELCOME!
The Western Pennsylvania School for the Deaf (WPSD), a non-profit, tuition-free school, provides academic and extracurricular programs to deaf and hard of hearing children from birth through twelfth grade. Founded in 1869, WPSD continues its tradition of excellence through services to children from 54 counties across Pennsylvania.
WPSD's barrier-free, all-inclusive communication environment meets the needs of the individual student. American Sign Language, Sign Supported English and Spoken English are all incorporated to promote the academic, social, emotional and physical development of our students.
Discover more about our programs on the following pages, tour the School by clicking on the video below, or call 412.371.7000 to schedule a visit.

____________________________________________________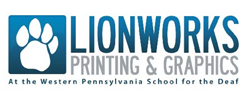 ____________________________________________________